N
okia has unveiled its first high-end smartphone running on Linux software. A phone for technology enthusiasts, it allows you to multi-task and browse the Internet like the desktop computer.
Running on the new Maemo 5 software, the Nokia N900 helps users open dozens of application windows and run simultaneously.
The Linux software, Mozilla-based browser technology and cellular connectivity makes Nokia N900 a powerful mobile experience, says Nokia.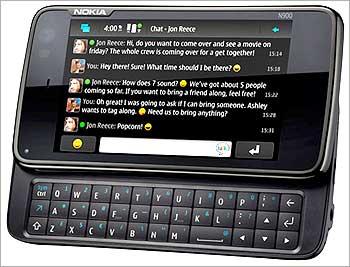 D
esigned for computer-grade performance in a compact size, Maemo complements Nokia's other software platforms, such as Symbian, which powers Nokia's smartphones.
The Nokia N900 is packed with a ARM Cortex-A8 processor, up to 1GB of application memory and OpenGL ES 2.0 graphics acceleration, allowing PC-like multitasking, allowing many applications to run simultaneously.
Switching between applications is simple, as all running content is constantly available through the dashboard. The panoramic homescreen can be fully personalised with favourite shortcuts, widgets and applications.
The Nokia N900 features a high-resolution WVGA touch screen to make web browsing more enjoyable, and fast internet connectivity with 10/2 HSPA and WLAN.
Websites look the way they would on any computer. Online videos and interactive applications are vivid with full Adobe Flash(TM) 9.4 support.
Maemo software updates happen automatically over the internet.
More Cool feature ... Dont miss for information on Nokia's Site
http://www.mastiz.net
http://www.mastiz.net